Cameron Molchan, Friends of Great Smoky Mountains Elite Cycling
For thirty years we, at Litespeed, are fortunate to meet all types of cyclists and hear many thrilling stories. Part of our thirty year celebration includes celebrating those people and sharing their stories with you.
Meet Cameron Molchan
My name is Cameron Molchan. I'm 44 years old and live in Knoxville, TN. My wife's name is Julie (a gifted massage therapist), and I have a twenty-one-year-old son, Juneau, who just graduated from Pellissippi State Community College. I'm an English teacher by trade, but I currently work as a magnet facilitator for the Career Magnet Academy—a magnet school in Knox Co. I race for Friends of Great Smoky Mountains Elite Cycling as a category 2 cyclist.
What Litespeed model and year do you ride?
2015 Litespeed Li2: Fast, stiff, light, and fits me like a glove. Love the di2 shifters—I'm hell on shifters.
What is your favorite race or ride of the year?
Aaron Schafer is one of my favorite road races, but I missed it this year with the flu—occupational hazard of working in a high school. I also really enjoy the Three Rivers Rumble, happened this weekend, 5/14-15. Tim Tidwell does a great job organizing that event. The road course rolls nicely with an uphill finish, and the crit course is just technical enough and spectator-friendly. I particularly like the crit finish—slight uphill, two sweeping lefts, and a fast sprint.
Cameron with teammate, Nick Nichols.
How did it go?
Overall, the weekend went really well. Both Nick and Jon rode aggressively in the criterium and road race, respectively. This being my first full Pro/1/2 omnium since the accident, my goal was to use the omnium as training for nationals, help the team when I could, and at least finish with the main group.
Saturday's criterium was the state championship. The Pro/1/2 field was thirty-six guys strong with riders from all over the country—OH, GA, MS, KY, NC, & SC. Team Novo Nordisk had seven guys in the field which always makes things interesting. The pace was fast—on a short course with six turns the average speed was up around 27.6 mph. for fifty-minutes. Nick attacked multiple times from the start and, along with a couple other strong guys, rode hard enough for the first thirty or forty minutes to hurt those of us in the bunch hanging on. Two groups got away for short periods of time, but every time someone got a gap, the main field strung out and reeled them in. Jimmy Dean was on the microphone and got the spectators to pitch in for a $170 prime on the penultimate lap. It came down to a field sprint. Nick, who did loads of work on the front end of the race, got tenth overall, sixth in the Cat 2's. I finished 22nd, 10th in the 2's.
Sunday's road race panned out about like we expected. With seven guys in the race, we knew Novo Nordisk would try to establish a break early on which they did. We did three laps on a twenty-six mile course, and the first two laps got a little punchy as some of the smaller teams tried to get organized to reel in the break. After the climb at the end of the second lap, the break was just outside of 1 minute, but on the third lap, the pace of the peloton slowed and the break stuck. A small chase group of about four guys formed at one point on the final lap, and I bridged across but only one other guy was working, so we got swallowed by the main field. Shortly after, another chase formed and dangled just within view. When Jon realized the field had given up chase, he attacked and solo bridged to the chase group with whom he finished, taking eighth.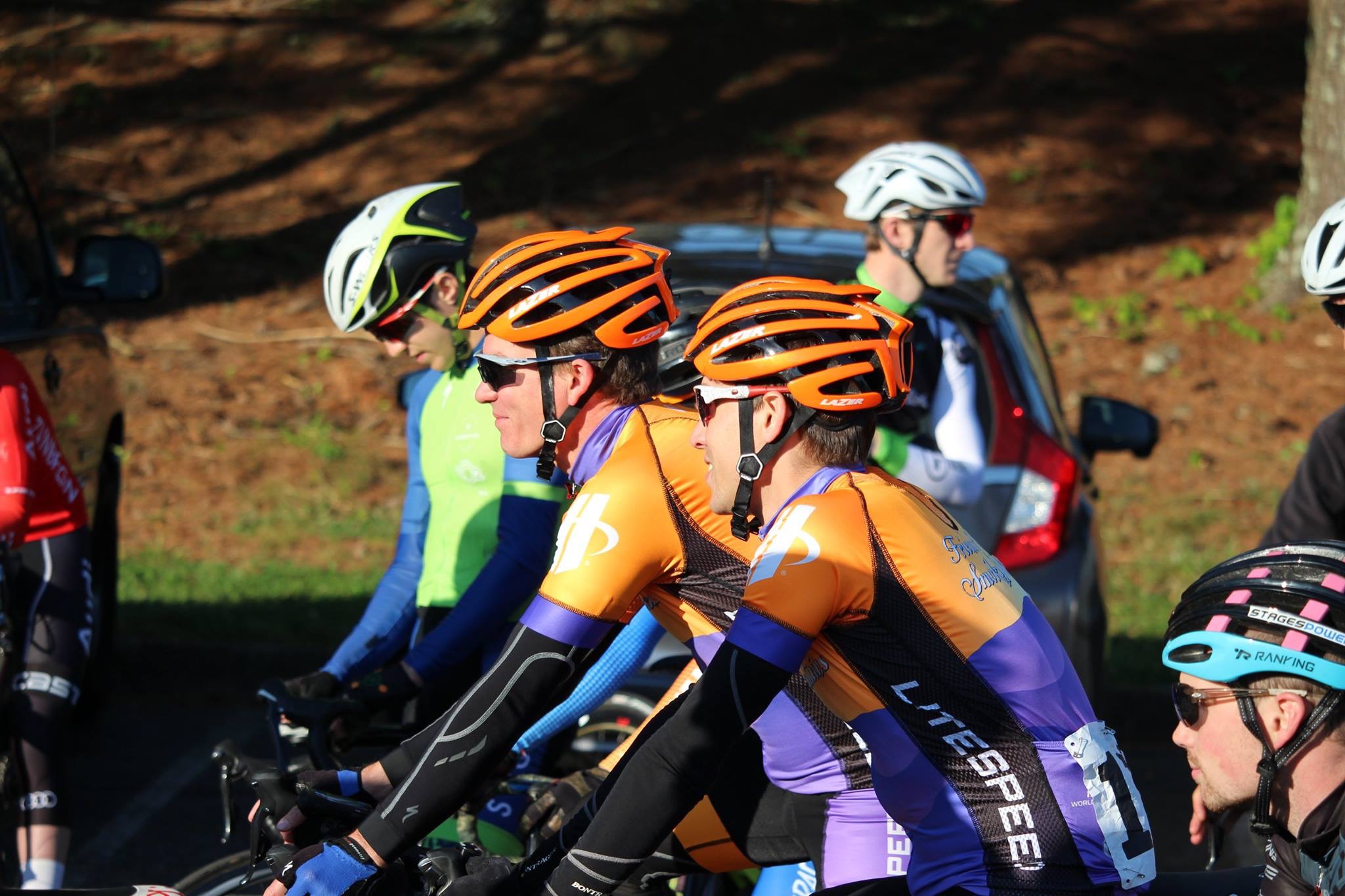 Cameron and teammate, Jon Crowson, getting ready for the start.
How do you stay ready?
I sometimes joke about my training and life philosophy by telling people that the closest I get to balance in life is spending equal time at the extremes. It's not uncommon for me to gain twenty-five pounds during the winter and ride it off from January-March. That said, I always put in the miles, even in the winter. I'm not very scientific about my training—when I feel good, I go hard; when I don't, I try to rest. I love nothing more than taking off early in the morning and putting in a five-hour day. I end most rides with twenty-thirty minutes of yoga/pilates—focusing on core, focus, and breathing. I've struggled in the past with psoas neuropathy, so flexibility, pelvis posture, and core & back strength are things I have to always work on and be cognizant of, especially as I get older.
Starting in January, I train 12-15 hours a week on the road and off the trainer as much as possible. From October-January I usually ride 8-10 hours a week and eat and drink during the other 158 hours. My wife owns her massage business, and my son is grown and off doing his thing—in addition to school and work, he likes hiking, trail running, and mountain biking—so that gives me a lot of time to train at my leisure. Also, my wife loves to sleep in, but I'm an early riser, so on the weekends I can get in a good three-five hours while she's sleeping in. It wasn't always so easy. We've worked hard our whole lives, and life is quiet right now.
Cameron lost 60% of his left quad. You can see the skin graft peaking out of his shorts.
THE WRECK
One of the ways I get in my miles is by commuting the eighteen miles to and from work as often as possible. On September 15
th
, however, I was hit by a pick up truck during a commute. The guy just didn't see me coming towards him, and he turned left directly into me.
His bumper hit me square in the left quad with enough force to knock out his headlights
. I remember lying in the road, opening my eyes, and seeing his broken headlight lying in the street there next to me. The first responders on the scene told me I had a broken femur and tibia. I remember looking down and seeing my left quad hanging out of my leg and one of the bystanders saying, "You don't have an ounce of fat on you!" Once we got to the hospital, they gave me a CT scan and didn't find a single break or fracture. The doctor told me later that he cut off over 60% of my left quad (I remember seeing them cutting it and dropping it in a bucket on the floor beside me) trying to sew the leg shut to no avail. I wore a wound vac for two months before the bed of muscle was ready to take a skin graft. Two weeks after the skin graft, I was cleared to start riding the trainer. After my second day on the trainer, I threw three pulmonary embuli (blood clots)—two into my right lung and one into my left. That put me off the bike for an additional three weeks and put me on blood thinners for three months.
It's been a long road, but I never thought about not racing.
I'm back to 12-15 hour training weeks and commuting to work again. The hardest part has been getting my respiration and heart rate back to what it used to be before the blood clots, which cut off circulation to a portion of my right lung causing it to be infarcted. I'm not quite 100%, but I'm really close, and every week I notice improvements in my respiration and my maximum heart rate. I've also dropped thirty pounds since January—talk about equal time at the extremes . . .
What's next on your list?
My biggest goal this year, and what's motivated since I was lying in the hospital bed, is Masters Nationals. I'll be mixing up in the 45+ category for the criterium and the road race with my friend and training partner, Steve Bacon, who taught me most of what I know about bike racing and training.

This is probably my last year racing Pro/1/2 locally, so while it'd be nice to have some good finishes in the local and regional stuff like Rockabilly, Oak Ridge Velo, and maybe even River Gorge, what I'd like most is to be strong and consistent enough to help my teammates get some good finishes. Riding for a team motivates me to do things on the bike I couldn't do racing for myself.