RAMROD (Ride Around Mt. Rainier in One Day)
For thirty years we, at Litespeed, are fortunate to meet all types of cyclists and hear many thrilling stories. Part of our thirty year celebration includes celebrating those people and sharing their stories with you.
Meet Joe Allen, The Adventurer
Joe & daughter Kendra who accompanied for the last day, the final climb up Katahdin, at the end of the 2189 mile, 5 month long, AT hike.
Joe, please tell us a little about yourself.
First and foremost I am father to a wonderful daughter Kendra. Having her join me on these adventures not only provides me with inspiration but I always aim to help her realize the possibilities of what she can accomplish is only limited to her imagination and determination. She has joined me for many marathons, Ironman events, adventure races, races in Leadville and the RAMROD in Seattle.
I was born in CA and raised in Washington State with an appreciation for the outdoors. My entire career has been in various engineering, sales and senior leadership positions in the technology sector. I like to think I am just an average person that has been lucky enough to enjoy some amazing adventures. Success is never a guarantee but the experience of the adventure and what you're willing to put into it is what provides the lasting memories.
What Litespeed model(s) and year(s) do you ride?
2003 Pisgah, 2003 Arenberg, 2005 Blade and the latest T5gravel
Where did you have your adventure(s)?
Aside from cycling they have been around the world and in various location throughout the US. I have ridden the Pisgah in many adventure races throughout GA,SC and NC. The Arenberg was used for a few initial Ironman events and for the RAMROD event. The Blade has to been used for any events as of yet, I just think it is one of the best looking bikes ever made and I had to have one. It rides and looks amazing!
Joe in Action Riding RAMROD (Ride Around Mount Rainier in One Day) on his 2003 Arenberg.
How did it go? Tell us the highlights of the adventure. Tell us a little about who you road with.

During one of my adventures, climbing Denali, the lead mountain guide, Brent Okita, from the Seattle area spoke about RAMROD. I knew it was something I had to give a shot. Like many events at the time there was coordination with other friends to see who was interested in joining, we are all endurance adventure junkies at heart. Eventually a good friend and fellow Ironman, Joe Paxton, decided to go. We were fortunate to be selected in the lottery process. Flights were booked and other arrangements made so my sister, daughter and nephew could join for the big ride and a mini vacation. As it turned out my daughter was scheduled to compete in the Raleigh IronKids event, her first, a week prior to our departure. She was nervous so I made a deal with her as a distraction that when she completed the race she could color my hair any color she wanted for our trip. Next thing you know I have a shade of Seattle green hair for the trip.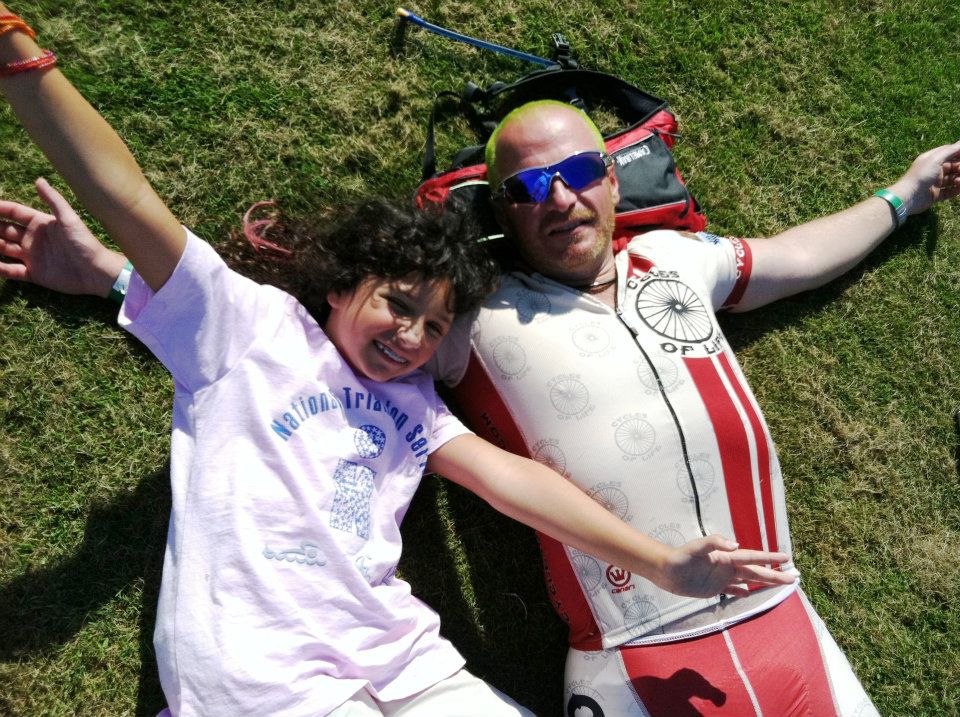 Kendra dyed her dad's hair Seattle green for the trip.
The ride, since they refrain from calling it a race although some still view it as a race, went really well and I was grateful to have changed to a compact crank on my Arenberg for the climbs that RAMROD presents.(10,000 feet of climbing over 150 miles) The climbs were the biggest I had ever tackled and proved to be very humbling. To this day the Arenberg setup is still one of my most comfortable bikes. This was my first long ride event and I enjoyed the challenge as well as being able to hangout the night before with the guys at Brent's house which is on the course to get some tips from the veteran. Like most mountain guides espouse, it's about the journey not the destination so take the time to appreciate every moment. The scenery on the ride was truly spectacular. The organizers and volunteers were amazing and well organized. Through the years I have come to appreciate those who provide support and often volunteer myself to try and give back, like Trail Angels on the AT.
Having an opportunity to participate in such a great event and have family and friends along made it even more memorable. In the end Brent was blazing fast, a gifted athlete and world class climber finishing in the first handful of riders while Joe and I came in later feeling the pain of the long day and difficult climbs. This ride gave me great perspective for adventure cycling. I would do it again in a heart beat!
Joe Paxton, Joe Allen, & Brent Okita
How do you stay ready for adventures?
It starts with a healthy balanced diet, no fast food, soda or fried foods.
I ride and train locally in Durham, NC but enjoy the nearby, Lake Tillery NC area. The ride around the lake is awesome and there is not much traffic. Aside from that cross training, weights, wake surfing/boarding, SUP, rowing and golf are all part of the regiment. . The more diverse the activities the greater the benefits.
What's next on your adventure list?
After the TransAm I am looking to climb the 5th of my 7 summits, Vinson Massif. After that I am looking to complete the triple crown, the PCT being last with my Daughter after she graduates from high school. I also want to use the new T5G for the Tour the Divide some day.

Thank you, Joe for sharing with all of us!
If you also have a Litespeed adventure please post, tweet, share, tag #30yearsLitespeed